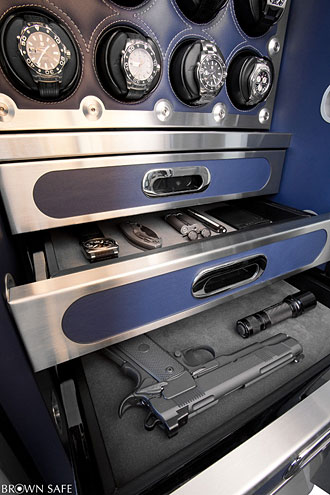 Some shooters prefer a lighter weight 1911 for everyday carry. Going to a smaller 1911 causes multiple problems that a serious shooter does not need. What has been needed for decades is a five inch GM size LW 1911. A custom version of this LW GM is now available from D&L Sports™.
A standard 1911 comes in at about 40 oz, a railgun 1911 comes in at about 45 oz, and a customized LW GM comes in at about 29 oz.
The first commonly available LW 1911 was the LW Commander model. Some people thought the Comm was much smaller than the Government Model. The fact is the only difference in size was a 3/4" shorter slide and barrel. This did very little in terms of conceal ability. It did shorten the slide stroke and, in our experience, the LW comm design cracked more frames than any other 1911 we are aware of. Retaining the 5" GM slide allows the pistol to retain a full slide stroke, and better reliability and durability.
Before offering a lightweight 1911 D&L Sports™ inc customized the GM alloy framed pistol for serious use. Then put 10,000 rds of 230 ball ammo through a single LW GM while watching for damaged or broken parts. The test was a success, and no parts were broken, and no frame cracks occurred. This testing will continue to determine what the long term durability of the LW GM will be.
Please keep in mind that a recoil absorbing buff system was machined into the LW GM before the testing was done. This no doubt cushioned the slide impacting the guide rod, and the guide rod head impacting the frame. In a non custom alloy pistol, the frame takes a beating and peening in this area, and this is a crack prone area. No peening or cracking occurred with the impact cushion in place. However, there is no free lunch. The impact buffers do need to be replaced about every 150 rounds or they become cut and come apart in the gun. The buffers are only about $1 each so cost is not a problem. The client needs to be willing to perform this preventative maintenance to avoid frame peening over long term use.
Another area of alloy frames which has been a problem is the feed ramp. Bullet nose impact on the feed ramp commonly causes peening of the ramp, and eventually serious damage to the frame. In order to solve this problem, the D&L LW GM has a tool steel insert machined into the frame's feed ramp area. This way the bullet nose impacts steel instead of aluminum alloy. This is a long term solution and does not require extra effort from the shooter.
The LW GM is a great solution for clients looking of a light carry gun with all the benefits of the 1911 design. It is best suited to shooters who already have steel 1911s to do their heavy shooting with. Then they can carry a lighter version of their main shooting pistol on a daily basis. Knocking off about 15 oz of pistol weight makes for a more comfortable daily carry pistol. Just keep in mind that it requires a little more maintenance than a steel pistol.