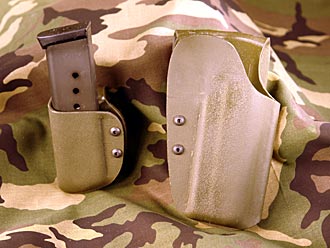 Tired of the flimsy injection molded plastic holsters which have saturated the firearms market? D&L professional grade heavy duty Kydex holsters are the solution. Designed by Dave Lauck to be super durable and field practical. Made from 1/8" thick Kydex with different carry angles and positions available. Black with 1¾" belt loops. Holsters feature a tip out belt loop design which allows the shooter to tighten his belt, yet not pull the top of the holster and pistol into his torso and create a difficult to draw situation. These holsters are manufactured for 1911s with an integral light rail in front of the trigger guard, such as D&L Signature Model 1911s. The holsters will also accept mid length and full length integral 1911 rails. The holsters feature dual tension adjustment devices to achieve the perfect level of tension. The rear of the belt loop is contoured to the body for long wear comfort. The loop is slotted to allow the shooter to weave his belt through the holster, a trouser belt loop, and back through the holster in order to secure the holster in position on the belt line. It is the operators responsibility to assure the carry mode and muzzle direction are safe for his/her use environment. Remember all gun safety rules apply. (See warnings & notices section of this website.)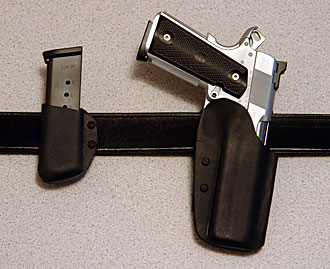 The muzzle slightly to the rear carry angle is an excellent choice for general purpose carry. It offers good comfort, concealability, safe muzzle direction, and a reasonably fast draw. A good all around, carry every day type of holster.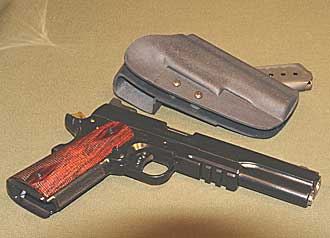 Kydex holster now available for six inch 1911's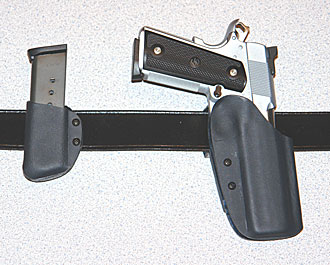 Holsters with a slight muzzle forward angle work well for high speed draws from a standing position. Not quite as all around comfortable in a variety of situations as the muzzle to the rear model, but it allow for increased standing draw speed and allows the shooter to keep his wrist locked during the draw. Very popular with practical competition shooters and still reasonably concealable.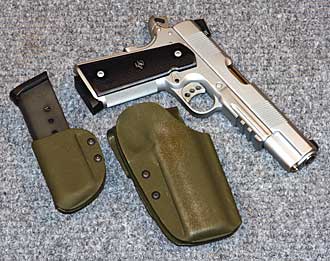 No matter what type of holster you choose, you must personally consider the safety and practicality a holster offers for your specific use environment. Make sure the holster you choose meets the retention requirements you need, and be sure the holstered muzzle direction is safe for yourself and those around you. Don't choose a holster which causes the pistol to point at yourself or others from any position you may occupy. Consider all firearms safety rules when selecting a holster.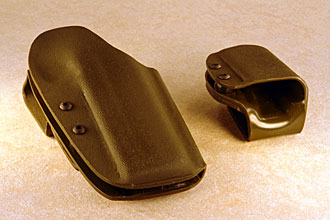 | | |
| --- | --- |
| Kydex 1911 Holsters | Prices available on request |
(Specify muzzle forward, or muzzle rear cant, RH or LH)