D&L J Frame S&W Sights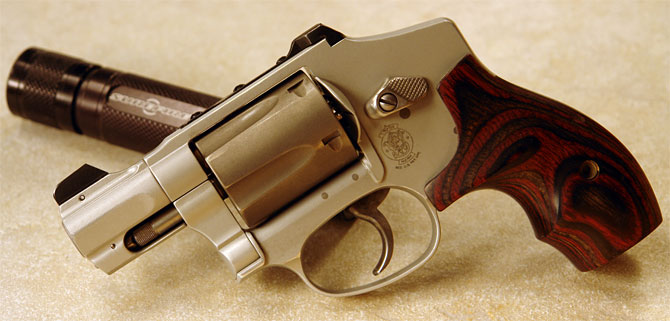 The S&W J frame has been a reliable, high quality revolver for decades. Knowledgeable shooters have chosen it over finicky little autos when they are looking for a dependable pocket or purse pistol that continues to function with little maintenance, even when it is contaminated with lint. The J frame has been carried as a last ditch firearm by many law enforcement officers who are wise enough to recognize its superior reliability over other pocket pistol designs. However, the J frame has acquired the nick name of " belly gun" over it's years of service because it was believed to be inaccurate beyond contact distances.



Night sight inserts, with or without white outlines, are an option.

Many shooters have noticed accuracy problems with the J frame. In reality, problems delivering accurate rounds on target with the J frame are more related to the factory sight design than they are related to the handgun's mechanical accuracy capabilities. Shooters skilled at sight alignment and trigger control can frequently deliver five shot groups of about 2" at 15 yards with the little J frame. However, sometimes these groups can be 2 or 3 FEET away from their point of aim.
Bottom line is:
The J frame needs a better sight design. Sights which are highly visible at high speed, capable of being zeroed, and allow for night sight insert option. All these features need to be accomplished without destroying the idea of the J frame being a no snag pocket pistol, or adding sharp edged and fragile adjustable sights, i.e. the J frame must maintain fixed sight durability.

The D&L Solution?
Dave Lauck has waited for decades for J frame sight problems to be solved by the factory. Since they haven't been, the D&L J frame sight set has been brought on to the serious shooter market. This sight set is suitable for J frames with pin on front sights, such as the S&W model 342.
This sight set includes and oversized, pin in place front sight which can be custom machined to adjust point of impact ( both windage and elevation ) at the desired distance with the desired ammunition.
The rear sight is machined from solid bar stock and inletted into the top and back straps of the revolver for a very low profile, no snag mounting position. Three screw attachment and no moving parts make it super durable.
Both the front and rear sights are designed to allow for tritium night sight ampules to be installed for those desiring this option.
The rear sight notch is cut to be compatible with the front ramp, and provides a real sight picture, not a shallow groove down the top strap. The resulting final sight picture of the D&L J frame sight set is similar to D&L signature1911 sights. Both have proven to be very fast and accurate by skilled shooters.
Once these sights are professionally installed, you have a zeroed J frame capable of accurate shot placement at high speed.
Drawbacks:
J frames, ammunition, and point of impact often vary widely. This is a project where you need to select your preferred ammo, and have the revolver individually zeroed with your choice of ammo. There is no ' about right ' set of sight heights. All this means custom installation, numerous trips to the zero range, and custom machining the sights until perfect point of aim, point of impact in achieved. All this means increased cost.
Positive points:
Once the job is done, it is done. It is a rugged , reliable, and accurate set up you can depend on. No need to worry about adjustable sight breakage or changes in point of impact. Do the job right the first time, and you only spend your money once.
Cost:
D&L J frame sight machined into your revolver, and zeroed with your preferred and supplied ammo - POR Three night inserts installed - add POR
Hi Dave...
I am speechless... I now feel there is hope for me and my HG... Why in the world would they ever design that gun without the rear sights??? Not everyone is a marksman... You have made it possible for me to move on for improvement in my shooting. It just makes you feel better when you achieve what you are trying to acheive...
Thanks you so much... You did your job extremely well and in such a short time...
Regards J H
Dave,
I have a S&W J Frame great carry gun. I think your sights are great.
CCW Shooter
Dave,
I received the gun back from you on Monday and shot the J-frame yesterday. I am very satisfied. The gun is right on point of aim / point of impact with the duty ammo that I supplied. I ran 100 rounds through the gun and will run another 100 tomorrow. I like the yellow rear and green front combination on the tritium. I have no problem picking up the sights day or night. There were no failures. I can recommend your services without reservation to my co-workers.
Thank you
Police Detective
D&L S&W Sights
Even the snub's biggest fans can agree that with few exceptions, the sights on snubs range from other than optimum to inadequate. Many snub sights are too small for fast sighting. Additionally, there are far too many snub with sights that won't hit to point of aim without some attention by a competent gunsmith. Fortunately for shooters there are first rate aftermarket sight options that can enhance the snub's sight picture. These include D&L J-frame S&W sights.
D&L Sports™, Inc offers a high visibility front and rear sight replacement for J-frame S&W snubs with pin-on-front sights such as the Model 340 and 342's. The D&L front sight is an oversized pin-on replacement that mounts above the usual height of J-frame front sights. Once pinned in place it can be custom machined to adjust for both windage and elevation to achieve correct point of impact. The rear sight is a one piece unit, machined from solid bar stock that also sits above the usual rear sight groove height. The snub's original rear sight material is machined away to accept the D&L rear sight, which is then attached to the notched-out area at the rear of the snub, and solidly mounted in place via a set of three screws drilled and tapped into the snub's top strap. Completed, the whole unit is solid, snag free, and offers a substantial advancement in sight picture. The D&L sights can also be ordered with a set of Tritium inserts in front, rear or both sights.
Snubnose Instructor
Dave,
The J frame sights are wonderful, the sight picture is stark and fast, yet the sights are low profile and rounded. My J frame was sighted in to be dead nuts on, and it is! Recommend for snubby revolvers!
John Farnam
Dear Dave,
I am impressed with your work on my Smith and Wesson. Shoots like a ray gun. Shoots where you point it. Sending some business your way. My friends are impressed with the sight work.
DDS
Dave,
Your J frame sights are fantastic, Good work!
Gunsmith
Dave,
I'd like your J frame sights included on my "ultimate carry gun". Thank you,
PhD
Dave,
Your J frame sights are exactly what I have been waiting for, for years!
Tactical Shooter
Hi Dave,
The gun looks great...really great. The sight picture is perfect. One thing I really like is the fact that the front insert is larger and green while the rears are smaller and appear white so there's no way you can get them confused. That's much better than the Trijicons on my duty Glocks where they all appear the same...what a great idea. We picked it up, took a sight picture and said "wow, that's MUCH better"...it's a really cool piece of work.
B