Custom AR-15 Stock and Handguard
The D&L Sports™ AR-15 stock and handguards were developed after decades of experience in front line situations, AR-15 modification, and International Tactical Rifleman Championship Competition. These Dave Lauck superduty designs provide for long term durability under the harshest of conditions
D&L Sports™ AR-15 Buttstock
The D&L Sports™ AR-15 buttstock is constructed from thick wall aluminum for excellent durability while maintaining light carry weight. This stock solves the problem of not having an emergency sectional cleaning/knock out rod on the gun when using a carbine stock.

The secondary tube has ample room for a GI length sectional cleaning rod and related cleaning supplies and/or related carbine accessories (such as extra batteries). The secondary tube is accessed through a coin slotted threaded rear port cover. The third short tube on the stock is perfect for extra surefire battery carry, or carrying a complete extra bolt assembly. Prefitting/headspacing a complete bolt assembly to the carbine will allow quick field change out capability in the event problems develop with extraction, ejection, gas rings, and or bolt lugs on the primary bolt assembly. To access the third tube one simply needs to screw the tube out forward away from the stock's buttplate unit. A generous hole in the front of the tube allows the turn out to even be accomplished with a cartridge case. This heavy duty stock unit is available for carbine and full sized AR-15s.
Please specify carbine or rifle when placing stock order

$374
D&L Sports™ AR-15 Handguard
The D&L Sports™ handguard unit solves the problems of other handguard designs while maintaining light weight and very heavy duty durability. This handguard unit mechanically locks to the receiver to provide a no fail connection. Common freefloat tubes often come loose from the receiver when high volume fire and related heat are applied. This is not possible with the D&L Sports™ design. This handguard is heavily ventilated to dissipate heat quickly from the barrel and gas tube areas. This hanguard provides for two inch outside diameter comfort without the snag and cut problems associated with Picatinny rails where you don't need them.

This handguard system allows the user to attach sections of Picatinny rail where they are needed to properly place an accessory item, such as a surefire vertical grip/light, and leave the rails off the areas that will be commonly gripped by an operator's hands. In short, accessories where you want them, hand comfort for the remaining areas. This handguard is available for carbines and full length AR-15s.

$224

D&L Sport gear is tested and retested to assure it is the most durable & field practical available.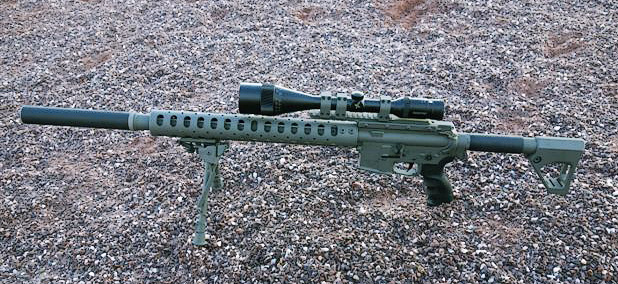 Dear Dave,
I just received from you my AR-15 upper upon which I had you place your custom hand-guard, and it is totally awesome. I just wish that I had tried your hand-guard before I wasted time and money on a number of other useless brands of hand-guards. I proceeded to then take my 16" Colt out and shoot a 3/4" group at 100 yards with it. Attaching all my accessories to it was ridiculously simple. Your hand-guard appears to be much more rugged and durable than those "other" brands that I tried. Thanks again for providing me with that completely reliable and awesomely durable hand-guard that I have been searching for, for such a long time now.
Sincerely,
Tactical Shooter / M.D. / ITRC Competitor
Dave,
The handguard is great, and the replacement rail works as advertised. It shoots great and will most likely be the last AR I ever purchase. Thanks for the great gear. I will recommend your product whenerver possible.
Tactical Shooter